ELA Innovation and Apitrak roll out a Mesh-networked Indoor location solution at the Allo Pneus Warehouse: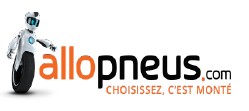 Who They Are & Client Needs
Allopneus logistics platform, storing more than a million of tyres and shipping 50,000 products a day, chose Apitrak and ELA Innovation to quickly and efficiently locate its industrial equipment, with the aim of improving the site's safety and optimizing its management.
ELA Innovation and Apitrak have deployed, over the 84,000m² of the Valencia platform, an adapted solution allowing to detect, locate and trace precisely the different logistics equipment such as forklifts.
Analyze movements in order to optimize fleet, storage and operations.
Cover a very large area with a lot of mobile equipment.
Locate equipment in real time.
Improve security on the logistics platform.
The Equipment 
ELA Innovation's beacons : Blue PUCK ID Mesh1 (30 anchor and 410 mobile)
Industrial gateway2
Viewing software : Apitrak Explorer3
ELA Innovation's equipment is particularly well suited for harsh environments. We used the PUCKs to geolocate forklift at allopneus.com in Valencia: Good tag holding performance on trucks in harsh conditions.

 V. Lê – CEO – Apitrak
The Operate Mode
From a technical point of view, the location solution is based on a mesh network of fixed and mobile beacons. The first one, also known as anchors, are installed at regular intervals (25 meters) throughout the site, while the mobile tags are positioned directly on the industrial equipment. The mobile Blue PUCK ID Mesh emits signals to the various anchors, which in turn pick up all dialogues and transmit the information to the gateway.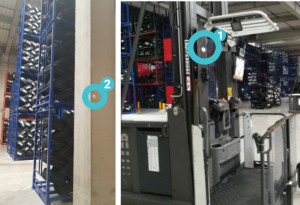 However, as the data collected by the sensors are raw, they are transformed into GPS data (latitude and longitude) by the Wirepas Positionning Engine tool and visualized on the Apitrak Explorer web application. This complete solution has been developed and implemented by Apitrak, which takes care of installation, maintenance, technical support and the IoT platform.
The Advantages
Compact, waterproof and robust beacons
Low TCO
Easy-to-install plug&play solution
Beacons 100% autonomous
Real-time location
Accuracy from 5 to 10 meters
The Results
Save 30 minutes per day thanks to the 1-click verification of the trolleys' loading.
Better knowledge of the damage causes of the equipment and goods causes, thanks to their movement tracking history.