ELA Innovation and Resonate MP4 trace 5000 non-motorized mobile equipment (NME) for Roissy CDG airport
Who They Are & Client Needs
Air France is a leading global player in its three main areas of activity: passenger transport, cargo transport and aircraft maintenance. Roissy CDG Airport has placed its trust in ELA Innovation and Resonate MP4 to optimize its non-motorized mobile equipment (NMEs). This challenge involved to deploy a monitoring system on 5,000 NMEs in Roissy CDG airport.
To answer this need, Resonate MP4 and ELA Innovation deployed a beacon network and GPS units for indoor and outdoor NMEs location. The GPS data is uploaded to the business platform developed by Resonate MP4 (www.xopsaero.com) allowing this fleet management optimization.
Track and identify 5,000 non motorized equipment
Allow indoor and outdoor traceability
Share and charge equipment for multiple users
The Equipment 
Blue Puck ID1
GPS Trackers – TAG32
XOPS Resonate3 Plateform

Air France has extended the technology to all its ramp equipment, including the ones used for the technical maintenance of airplanes.

A. Barré – Air France
The Operate Mode
From a technical point of view, the location solution can be deployed following two technologies: Bluetooth Low Energy (BLE) and Active RFID. In order to be identified, each non-motorized equipment carries a Blue PUCK ID¹ with BLE technology or, in some cases, a PUCK ID based on Active RFID technology.
The motorized mobile devices are equipped with GPS2 trackers, called Tag3, communicating via GSM 4G network.
In case already installed trackers do not have BLE connectivity, the same type of solution can still be deployed by adding an Active RFID reader.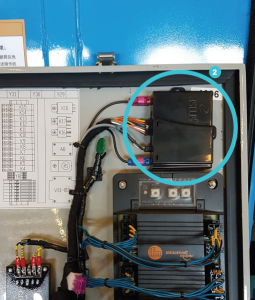 RSSI network management allows to define the distance between motorized and non-motorized equipment. If this distance is reduced to a few meters, the tracker communicates the presence of the non-motorized equipment by associating the Blue PUCK ID to its GPS position. In this way, this fleet composed of thousands of TAG3s (GPS boxes) running on the airport becomes a detection and communication network for non-motorized equipment.
The GPS data is transmitted in real time by the 4G unit to the XOPS business platform developed by Resonate MP4.
This platform allows to track, optimize, and share fleet between different airlines.
The Advantages
100% autonomous beacons
Beacons compatible with GPS units on the market
Compact beacons, watertight, and robust
Regular emission (every 4 seconds)
Vital battery life : at least 6 years
The Results
25% reduction of NMEs on the slopes
Enhanced security